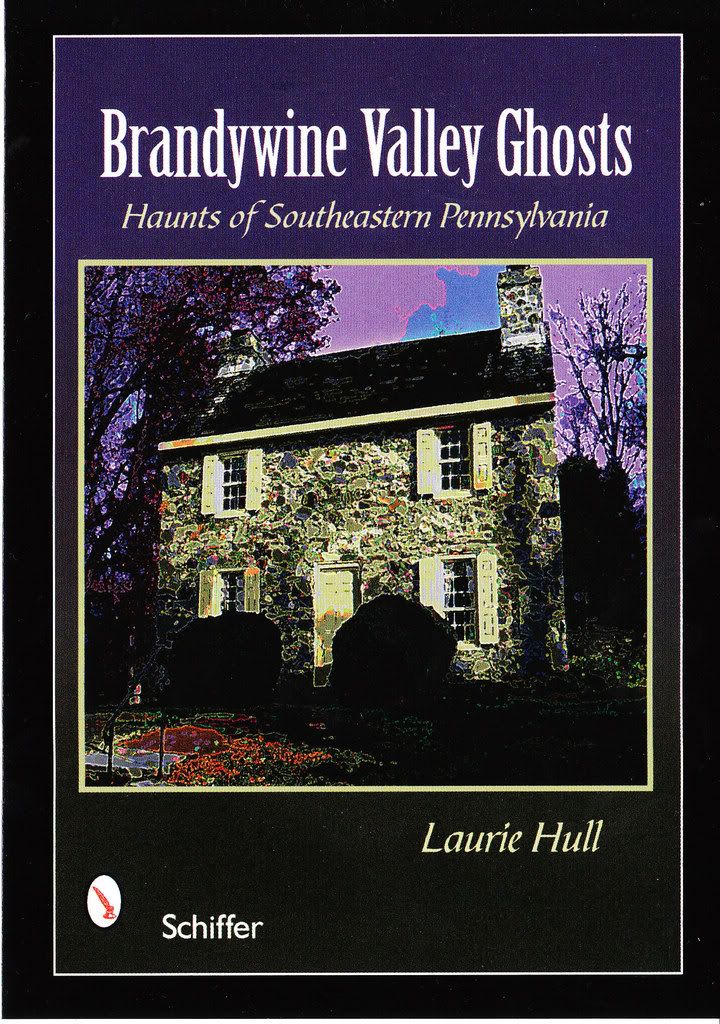 Historic and Haunted...the Brandywine Valley beckons you...

Tour the Brandywine Valley's most fascinating haunts, including private homes, offices, restaurants, and a battlefield. Spend time with a Revolutionary War sentry in Concord Township, on duty for over 200 years. Visit the Colonial Plantation in Edgmont where a lonely child spirit reaches out for the comforting hand of an adult. Learn what caused a building inspector to flee from a site in Thornton without stopping to collect his tools. These and more ghostly stories await you. Curl up in a comfy chair and be prepared to be scared!

Brandywine Battlefield
Crier in the Country
Parastudy
Chadds Ford Inn
St. John's Cemetery
Haunted Barn
Heilbron Mansion
The Ticking Tomb


Explore the Main Line in Pennsylvania where there are a multitude of haunted locations! Find out what lurks in the lagoon at Westminster Cemetery. Meet the ghosts of Harriton House and specters that haunt the General Wayne Inn. Walk the haunted halls of higher learning at Bryn Mawr College. And don't be surprised if you find a ghost as you travel from one place to another along the Main Line suburban area. From haunted mansions to apartment buildings, Philly's Main Line Haunts will chill you to the bone.
Order a Signed Copy:

Nestled at the southern tip of New Jersey, beautiful Cape May is the perfect historical backdrop for some very ghostly haunts! Psychic Laurie Hull gives her impressions of Cape May's top beach sites and interacts with its ghostly past. Meet talkative ghosts at Elaine's Haunted Mansion and learn the heartwarming story of a child ghost who lingers with today's patrons. Consider exploding glasses at the Southern Mansion. Visit a speakeasy ghost at the Queen Victoria Bed and Breakfast. These and other ghostly Cape May beach tales will chill you to the bone!
Learn More About Haunted Cape May!
Supernatural Pennsylvania

Order your autographed copy today for just $24.99 plus shipping.




Pennsylvania's has a long, colorful, and creepy history. This collection of entries showcases some of the spookiest places in the Keystone State and includes some lesser known creepy places along with the well-documented ones that have come to part of the unique culture. The encounters are as varied as the landscape; they range from a lonely haunted hiking trail in a mountain forest where a murder victim still seeks justice to a busy city intersection where the luckless ghost of a hanged woman lingers. The one thing these lost souls share is a desire to have their story told. So find a comfy chair and settle in for the night of visiting the spookiest, creepiest places in Pennsylvania.
Fall 2010

Coming Soon: Supernatural Mid Atlantic






Paranormal Investigator Classes
---
Basics of Paranormal Investigation
The course is a basic hands on approach to those who are interested in learning the fundamentals of ghost hunting or for those who are interested in paranormal phenomena in general. The information provided in this course will prepare you to begin to establish yourself as an investigator and researcher of ghosts, poltergeists or other paranormal phenomena. We will study the various types of paranormal activities, a case study of a haunting, the essential investigating equipment, the investigation process and how to process evidence and present it to clients or the public after an investigation. This course will also provide information about local research centers, associations and web sites that are useful to paranormal investigators.
---

Laurie also teaches classes in Paranormal Investigation at Delaware County Community College. Check the current Course Guide for dates and times.
Psychic, Paranormal, And Metaphysical Education Pages
Parastudy
Tri County PRS
Haunted Tube
Psychic Laurie
ParaPods